RIESLING — 1. NP
Unit D.1.1
sold
| | |
| --- | --- |
| Unit number: | D.1.1 |
| Layout: | 4+kk |
| Floor: | 1. NP |
| Total area: | 117,2 m2 |
| Orientation: | SN |
| Cellar: | 1 |
| Parking space: | 2 |
Unit price incl. VAT:
20 051 485 CZK
Garage price incl. VAT:*
1 380 000 CZK
Total price incl. VAT:**
21 431 485 CZK
UNIT PRICE: The price of the unit including
the cellar, if assigned to the unit and VAT.
*GARAGE PRICE: Price of all garage parking
spaces, if reserved for the unit. For selected units,
it is possible to buy without a garage.
**TOTAL PRICE: Price of the unit, cellar
and garage parking, if assigned to the unit.
TOTAL AREA of UNIT
It is the floor area of all rooms of the apartment in the sense of Government Decree No. 366/2013 Coll., i.e. including all vertical load-bearing and non-load-bearing structures inside the apartment, such as walls, columns, pillars, chimneys and similar vertical structures. The total area includes the area of the residence, including fixtures and equipment (e.g. bath, cabinets in the walls, shower, toilet bowl, nicknames). The total area does not include the area of warehouses, cellars, terraces, balconies, loggias, grassy terraces or front garden, etc.
USABLE AREA of UNIT
It is the area of the space defined by the inner face of the vertical structures delimiting the space, including their surface treatments.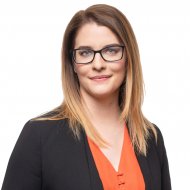 Zuzana Kohoutová
seller
Nabídka na míru